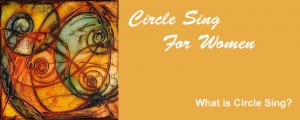 (Circle Sing has ended.  The last Circle Sing series took place in June 2014.)
Circle Sing is a women's singing group that sings and harmonizes inspirational music from many traditions.  It is relaxed, lively, and full of heart.  No previous group singing experience is necessary.  We hope that you will join us.  Our group will be better with you in it!
We start each evening with an opening song and invocation, followed by warm up exercises and vocalizing.  Then I lead the group in some experiential music theory, so that down the line everyone will be able to sight sing and know their way comfortably around a piece of written music.  (Believe it or not this is fun!)  Then we spend the rest of the time, using written music, learning to sing the songs for that session in parts.
The music is from many different genres.  I'm always open to playing some of the music in advance for someone considering joining the group, so that they can get an idea of what they'll be singing.
The music we sing is mostly in two parts, although occasionally in unison or three parts.  You are welcome and encouraged to bring a recording device to record the songs that we sing, so that you can learn your parts quicker and easier.  If your life is such that you don't want to do this, no worries.
Structure of Circle Sing
 We meet on Monday nights from 7:30 to 9:15 PM.  I ask that you come between 7:15 and 7:30 because we start with our opening song right at 7:30 PM.
We usually meet in eight week series, although that can vary.  The general structure is September/October, November/December, January/February, March/April, and May/June.
Location
 Circle Sing meets at Dale's house in North Oakland near Emeryville.  Please call for the address.
Requirements for Membership in Circle Sing
 There are no auditions.  If you can carry a tune you're in.  If you're in doubt as to whether or not you can carry a tune give me a phone call and I can tell you.  If you can't carry a tune (yet!!!) you can take private lessons with me until you are ready to come into the group.  Over the years I have made it a specialty of teaching people to carry a tune.   Our members have widely varying amounts of previous singing experience and skill levels.  Some come in confident, with lots of previous singing experience, and others quite insecure, not having sung individually or in a group for years.  Participation in Circle Sing is a wonderful, enjoyable way to build your confidence and skill level as a singer.
Financial Information
 The cost of Circle Sing is $162 for an eight week series.  The cost, pro-rated, works out to be $20 per evening plus $2 for copying.  (A seven week series would be $142; a six week series would be $122, etc.)  Since this is not a drop-in group, this fee applies whether you come or not to individual evenings during the series.
(510) 655-1425
Testimonials
 "When I first came to Circle Sing, I loved music and singing, but I couldn't do either very well.  From being in Circle Sing I've learned how to sing both melody and harmony.  I've learned how to blend with others and how to feel the rhythm.  Dale teaches singing with a sense of ease and joy, not with effort.  Her own joy and pleasure from music radiate throughout the group.  I always feel happy and connected in Circle Sing."  —Kathy K.
"When I started with Circle Sing I was a strictly "by ear" singer.  Now I can read the wonderful music that Dale always brings to the group."  —Susan S.
"Monday Circle Sing is consistently one of the happiest events of the week for me.  It is a delight to harmonize with such wonderful women and I find that Dale's support, humor, and teaching style make the evenings fun and productive."  —Uma H.
Last Night at Circle Sing was especially beautiful. We all arrived exhausted and left exuberantly. We will meet again in January.